Dæmon
ce type est une mine d'info @ propos des Mc Laren F1
Citation :

As said, the F1 is my specialty, but I really have a lot of other people who share equal credit in helping me amass all this knowledge over the years. Could never have done it on my own even with my level of desire.

There's also two problems for me to "keep going". One, I don't want to monopolize this great thread with F1 content, and two, I really don't have all that many pictures of F1s in people's garages, or the shots I do have are of garages that are just not worth looking at in the same company as what this thread intended to focus on.

Sometimes they are spotted in the wild, but most often they show up inside a museum, at a car show or auction, or momentarily sitting in a dealership's showroom somewhere in the world, and that stuff doesn't really qualify for this thread.

But let's go ahead and run out on the ones that I recall. Then maybe someone here will start a McLaren F1 thread in the other European car forum and we can do a sort of Q&A or whatever comes to mind I guess. In my 9 years of researching the F1s I have learned a lot and had a lot of fun sharing what I know, but there are still a few unanswered questions. Play stump P25 if you want - I don't care.

Moving on...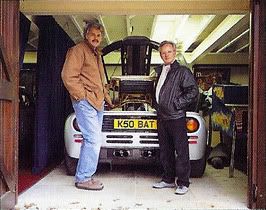 Don't bother clicking on the image above thinking it's a thumbnail - that's as big as it gets. This dinky photo is actually rather special though, and some of you may have immediately recognized at least one of the reasons why, maybe two for the really sharp-eyed viewer.

The two men in that photo are Gordon Murray on the left and Horacio Pagani on the right. This photo is cropped from a scan of an article titled "Murray Meets Pagani" that Gordon wrote for EVO magazine, Feb 2006. In the article, Gordon reviewed the Pagani Zonda F coupe and gave it high marks.

The caption on this photo in the sidebar reads: "'And here's one I designed earlier...' Murray shows Pagani around the F1. Not an influence, says Pagani." <gasp> The sidebar text clarifies that a little more with this short paragraph: "But although the F1 wasn't a big influence, Gordon Murray himself has always been an idol of Horacio's, along with Colin Chapman, and the Argentinian engineer Oreste Berta. In fact, says Horacio, the first race car he designed was inspired by one of Murray's Brabham F1 cars."

The car in the garage behind them is also very, very special, as that is Gordon Murray's very own McLaren F1, prototype chassis XP3. I already mentioned this F1 was given as a present to him at the end of production, but not before it was given a full refit to bring it up as close to production spec as possible. I also mentioned that this is the earliest surviving McLaren F1 in existence as confirmed by Gordon, so it truly is a very special car. Figured that was worth repeating.

As for the garage - since that's why were all here - it looks a little cramped, but does have some stylish navy blue curtains and it appears there is a pinball machine to the right of the car. Also the wooden garage doors look sort of fancy. Sorry, I tried, but that's all I've got.

I won't be cruel and leave you with just that one little photo of XP3, so here are a pair shot inside the "Gordon Murray Design" studios, which for those who have not heard is his new company separate from McLaren, where he is currently working to develop several concepts including the T-25/T-27 city car you probably have read about. There's also reported to be another supercar effort on the drawing board, but it is still too early to think of placing a deposit.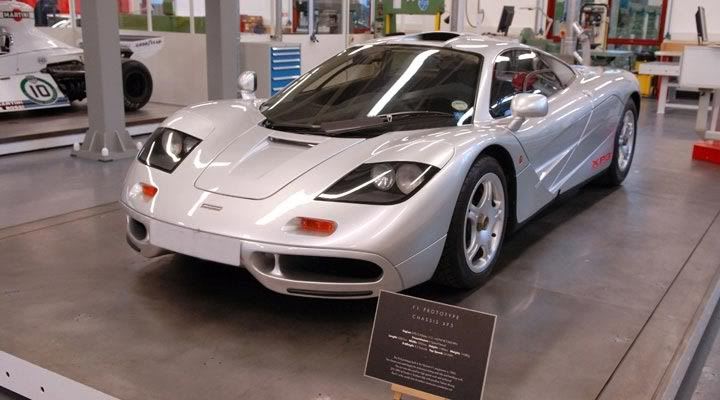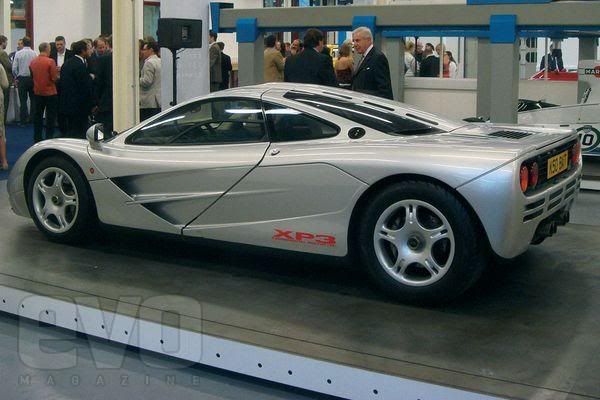 Side Note: There were some minor design elements on the early prototypes that were altered or changed before or shortly after production began due to functionality, regulatory compliance or simple aesthetics. In the front view of XP3 above you can see one such detail.

The shape of the recessed turn indicators on XP3 is different than on a production F1 - gives the car a strange face. This detail changed during their development of the car from having nothing in this location on the early styling mockup (as the indicators were integrated with the mirrors), and then nothing at all on XP1, to having flush ones on XP2, then this style on XP3, XP4 and XP5. Eventually XP4 and XP5's noses would be changed to match the final production spec, so only XP3 retains this unique look, which according to one source, Gordon preferred.

Side by side comparo with a production F1 - I think I know which one I prefer, and sort of like Horacio's comment above, I am not influenced by Gordon's F1 in this particular instance.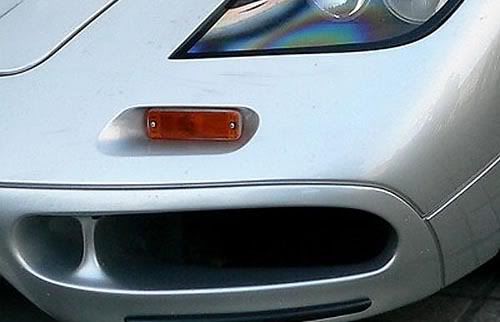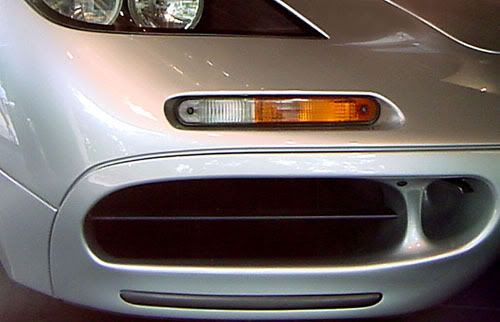 Finally - my impression here is of a proud but humble man having his photograph taken in the car he created. When I discovered this shot online back in August 2004 it became an instant favorite and remains one to this day even though my collection of images has grown considerably since then. This is Gordon inside XP3 (in a car park as the Brits say, not a garage - sorry again) and I figured we could end the XP3 section with it.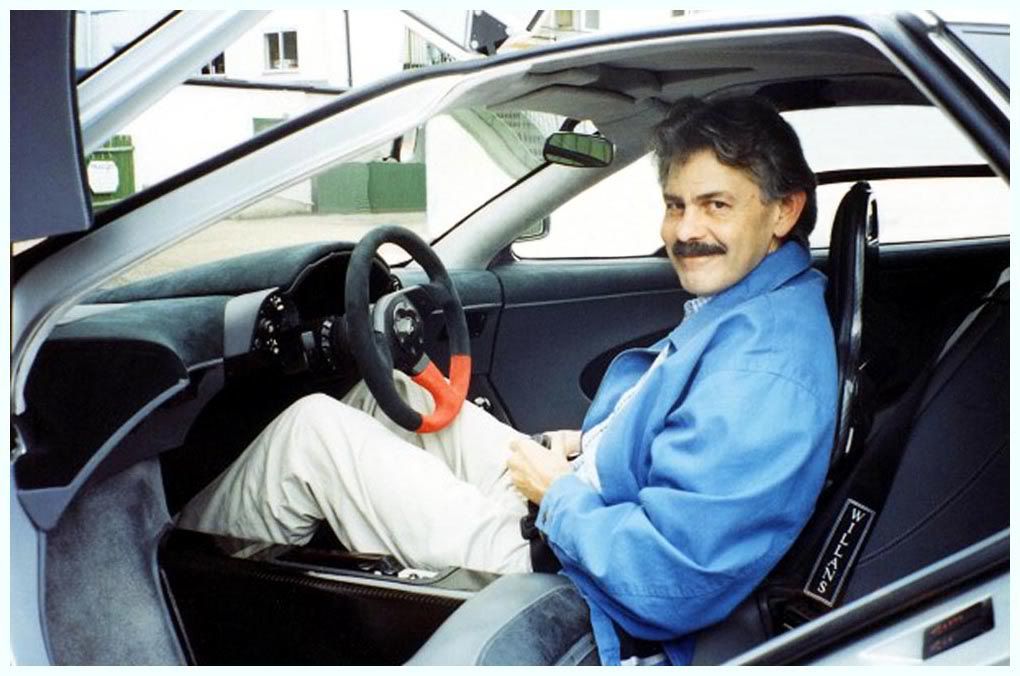 It was taken by a man visiting the UK from Gordon's home country of South Africa who had come to sell him a GSM Flamingo - a sort of odd looking car native to SA that Gordon had wanted for his collection. He snapped a few more pics, but this was the clear winner.

= = = = =

I'll try using a little less detail going forward from here.

This is chassis #011 in a pretty sweet looking garage - best one you will see for the rest of this post, in fact - located in Seattle, WA.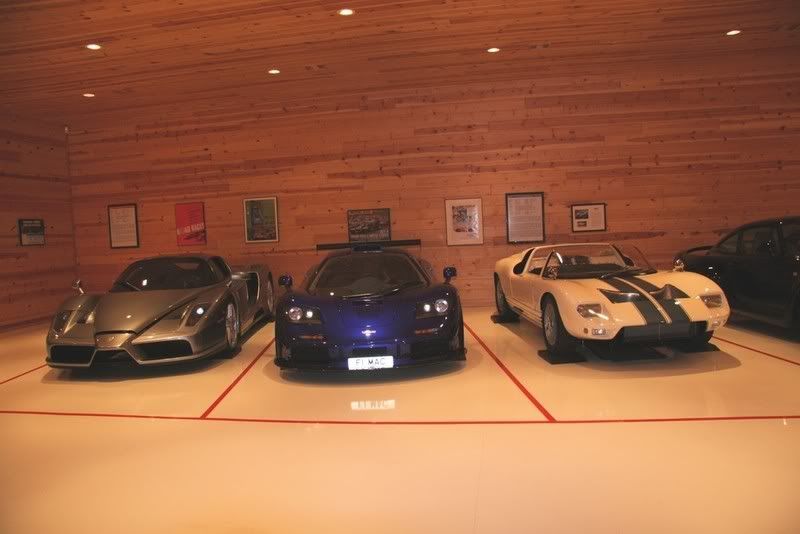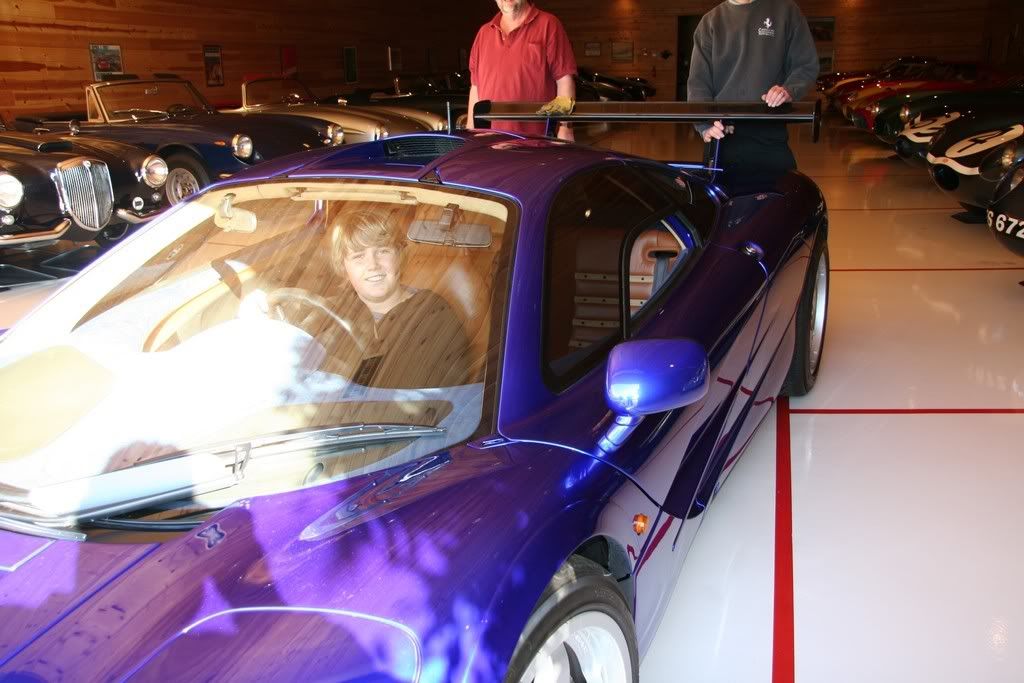 This special F1, and all that you see there (except the child maybe?) belong to John McCaw, a familiar name to those who know great car collections, or to people who follow the cellular wireless industry.

The car was originally painted Carbon (almost black) when new, and saw two refits from the factory at the hands of its second owner (McCaw is #3). The first refit added the option known as the "High Downforce Kit" which includes the nose and tail sections from the F1 GTR/LM as well as 18" OZ wheels in most cases and other little tweaks. It went back to the factory later to be resprayed in that brilliant and striking Metallic Blue paint, and to have the interior redone to it's present state. I only have the two garage shots, so I'll add this trio of shots taken inside an enclosed transporter. Hey, it's still inside, and maybe the transporter was backed into the garage, I don't know?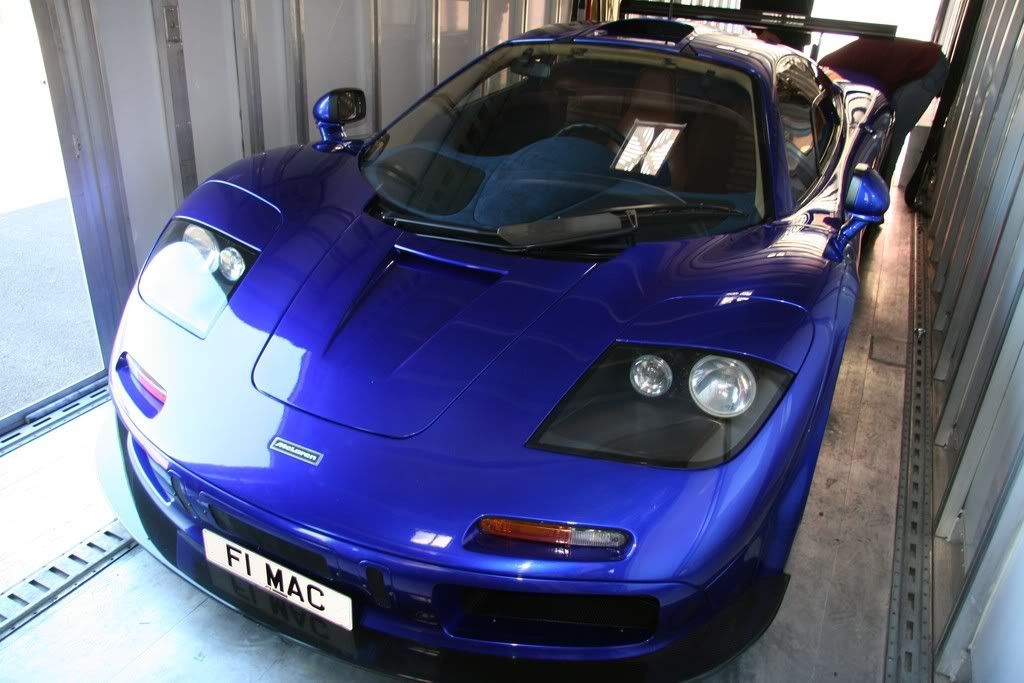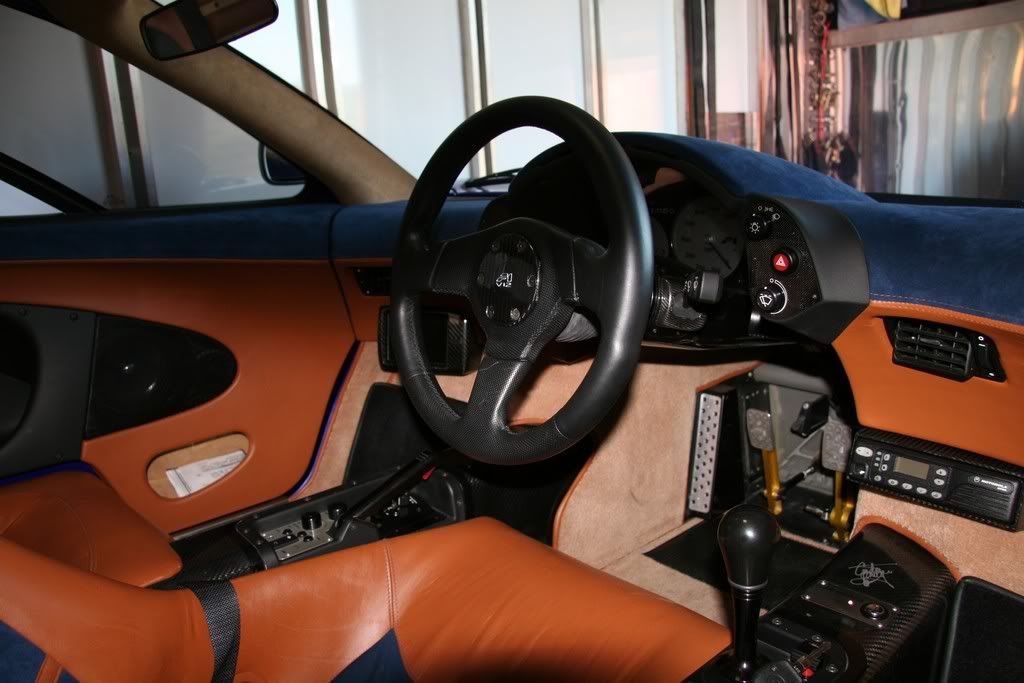 Pretend this is a fancy garage so I can share two more images, while I instead tell you this was the location for the Christie's Auction in London in June 2003 where McCaw purchased this stunning F1 for a price, with buyer's premium, that worked out to $1,073,665.25 USD at the time. He still had to pay to federalize it under our "Show or Display" exemption process, which is not cheap, but that was still an awesome deal for a car like this. Yes, I did just use the word "deal" for a car that cost $1 Million Dollars!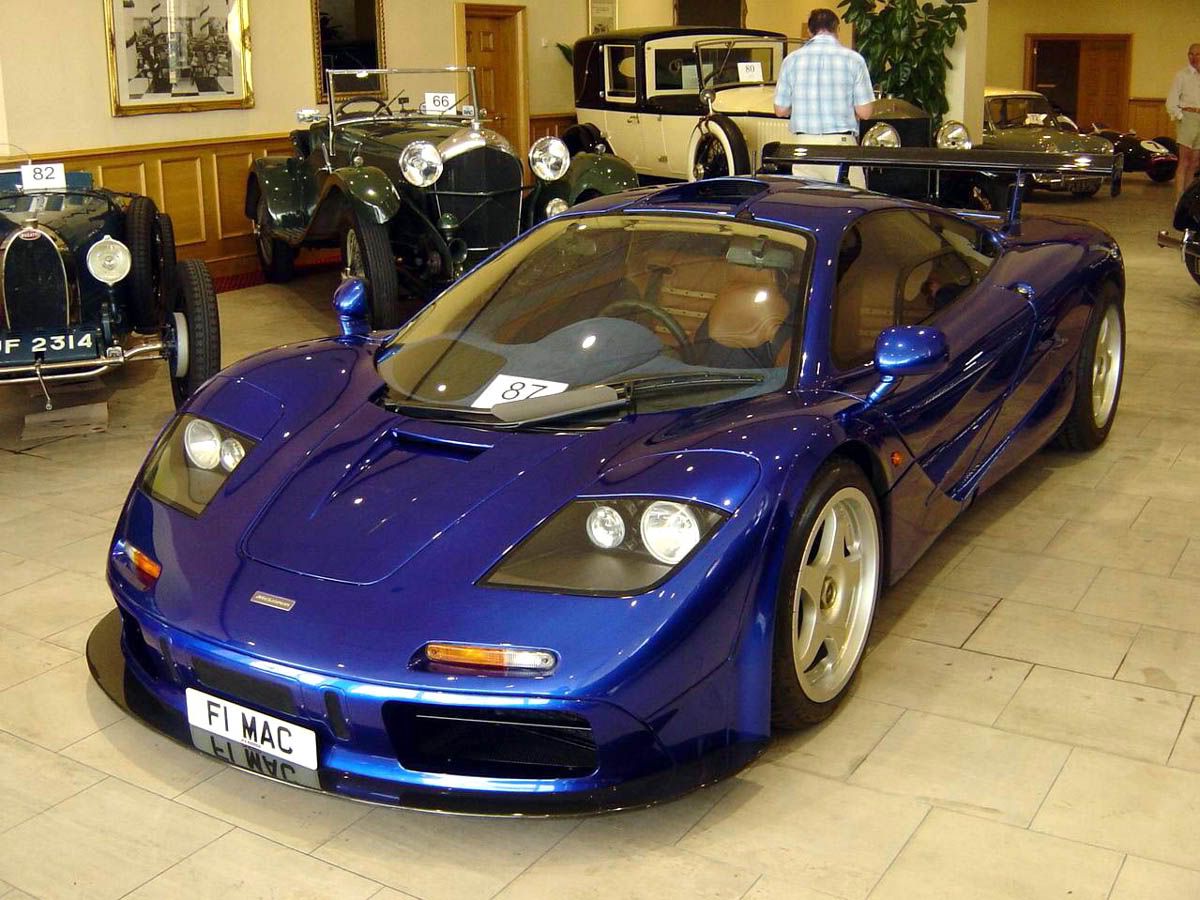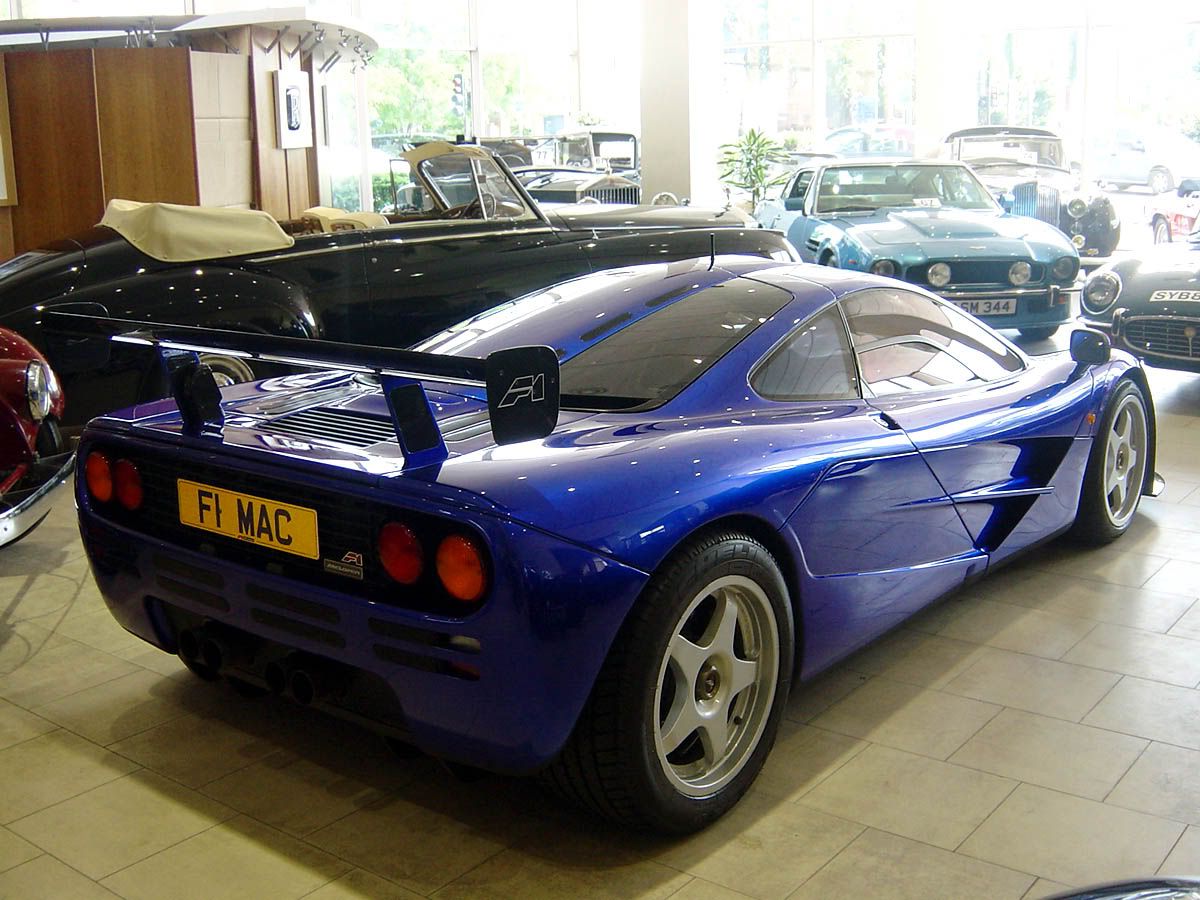 BTW: Are all these lame "garage" related jokes getting old yet?


Citation :

Here's LM3, from when Mr Selldorff owned it, seen here in the Turner Motorsports storage, ummm... garage. Warned you earlier some would not be pretty.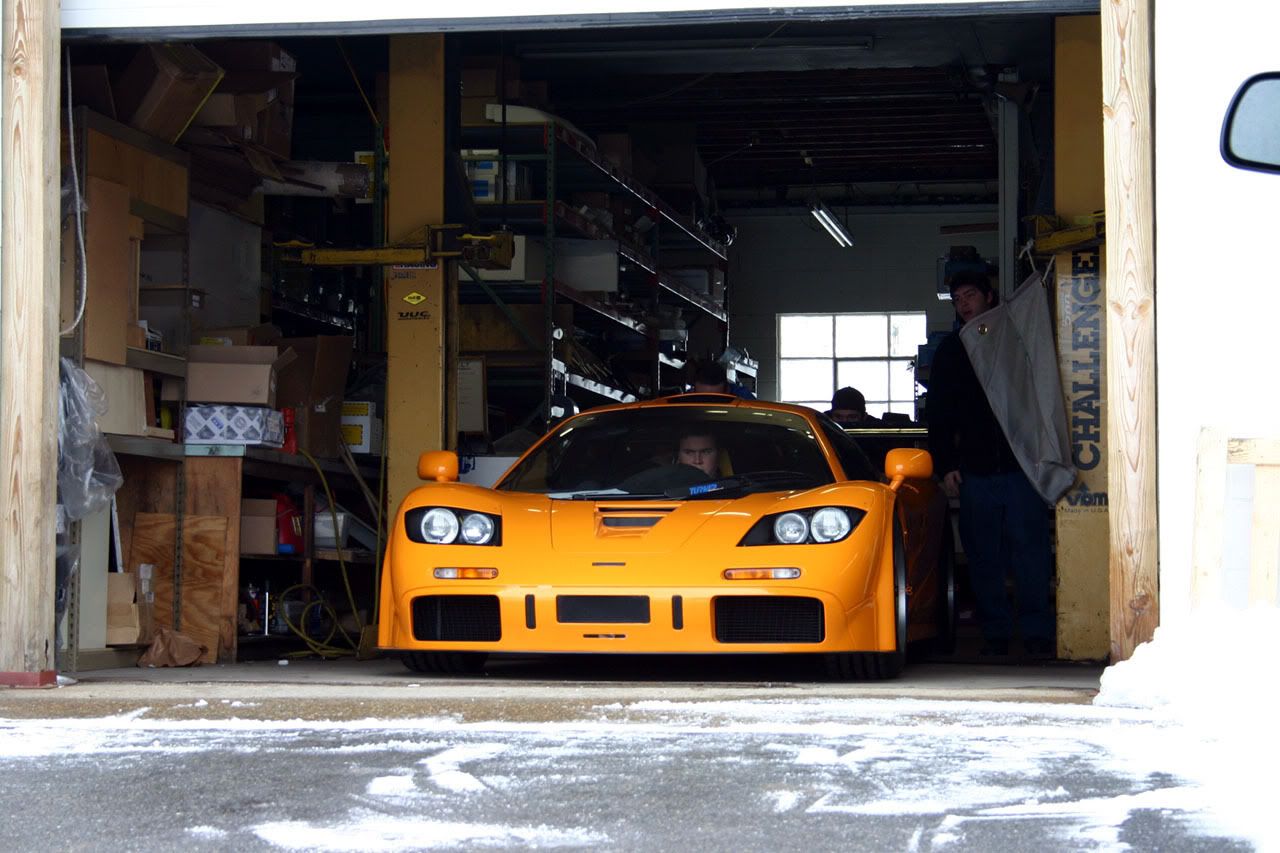 LM3 again, resting comfortably in the garage at Mr Selldorff's home. I think it shared this space with an M5 and an MINI Cooper S most of the time. Just pretend they are there.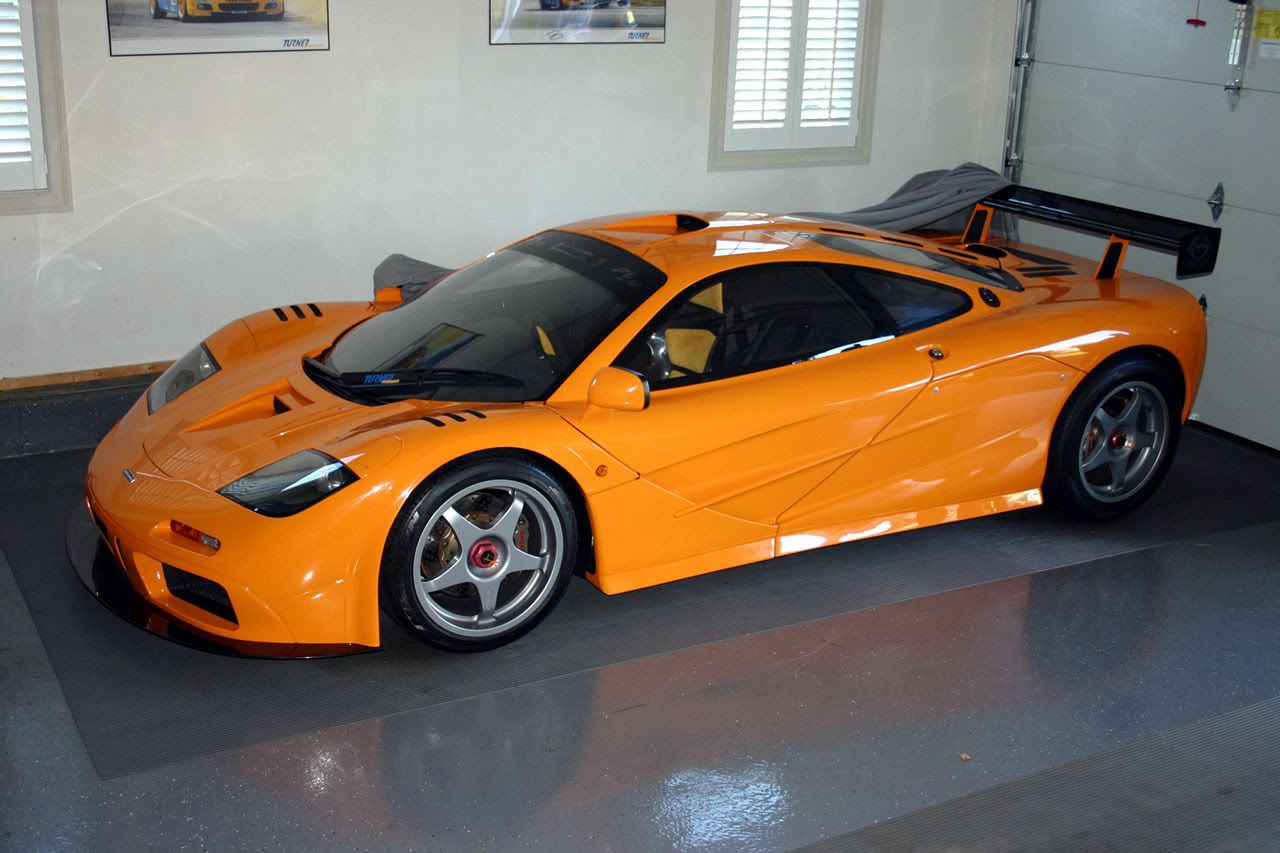 = = = = = =

Older photos from 2004 when Clifford Meltzer of Los Gatos, CA owned F1 chassis #028. Don't look so hard for the F1 in the last two, it's not there. Beauty of a Vanquish in that amazing blue color though, and "I SPY" an under cover 288 GTO. Yellow Enzo in the back corner too.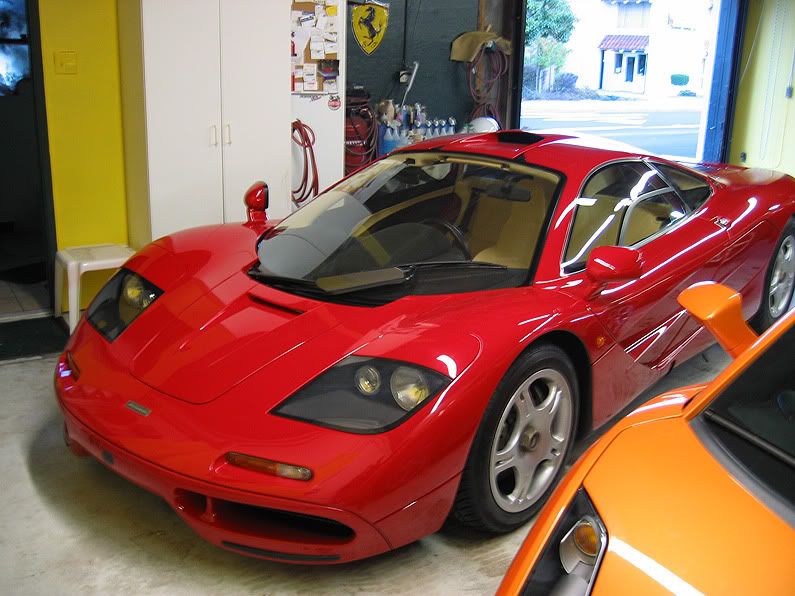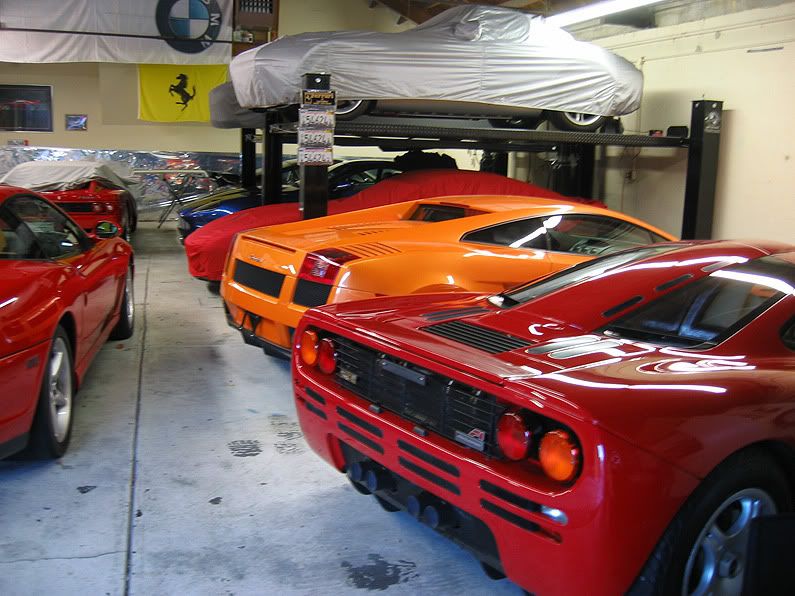 As for F1 #028, it is now with Tom Price slightly north of the Bay Area. This is the only shot I have in what I presume could possibly be his garage? Anyone know for sure?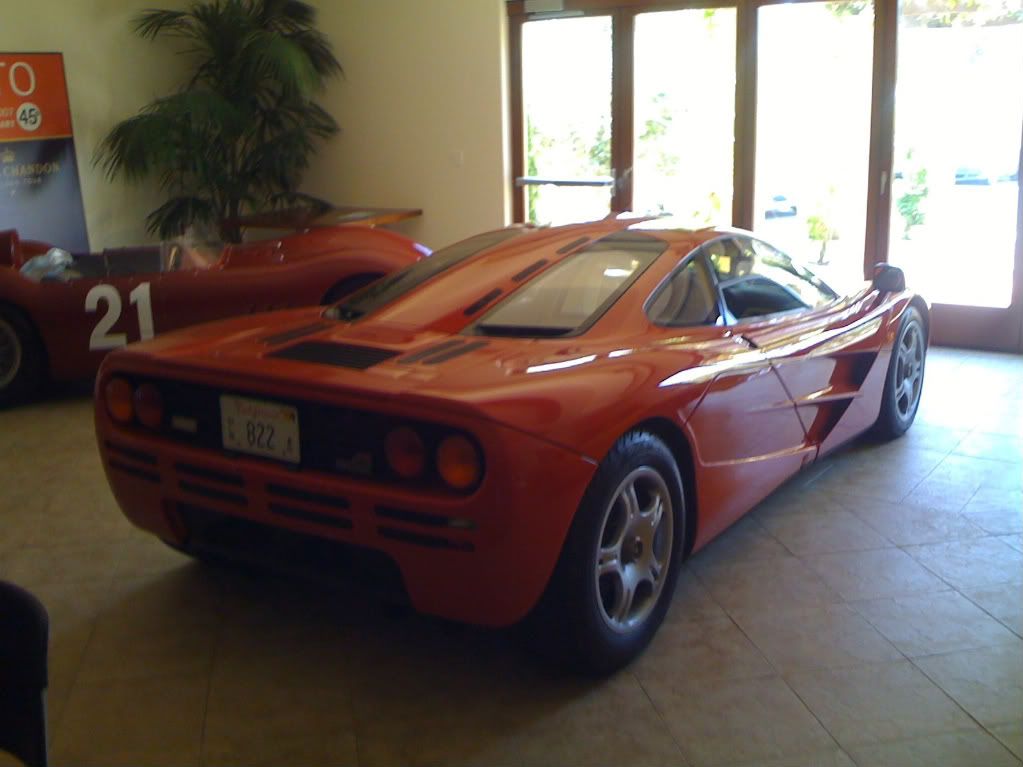 Anyway, we'd really love to have more shots of his garage because it also contains a 250 GTO and an Aston DB4 GT Zagato among other precious items.

= = = = = =



Chassis #038 inside the garage of its (by my current count) former, former, former owner, Dan Kennedy of Scottsdale, AZ.

Also have a set of photos from this guy Raj on the S2000 forums who's brother knew Dan and got him in to see #038 once.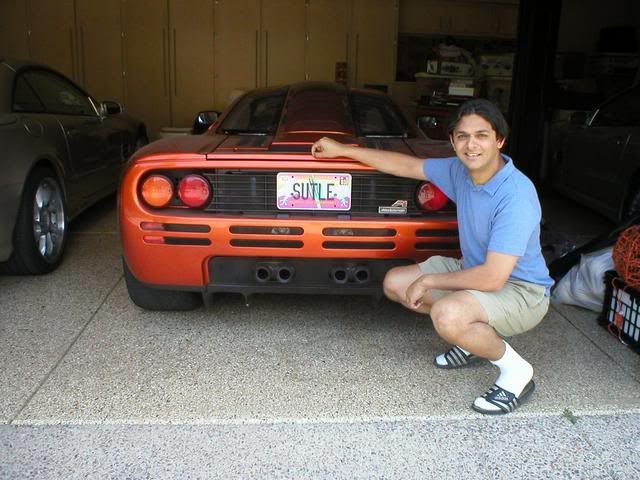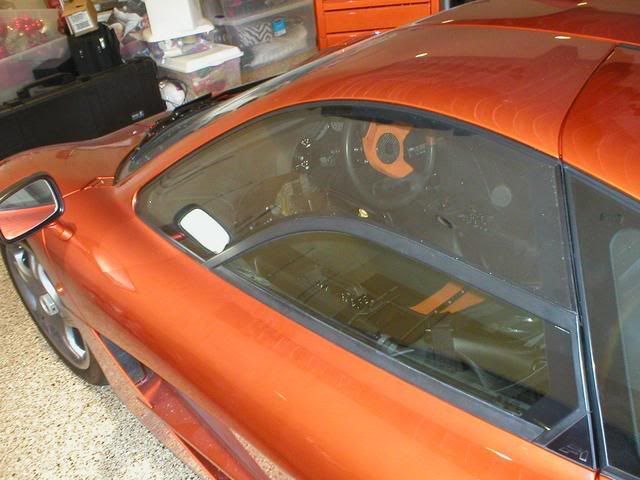 Dan took Raj for a ride in the car, but probably wouldn't have if he'd been around to see this happen.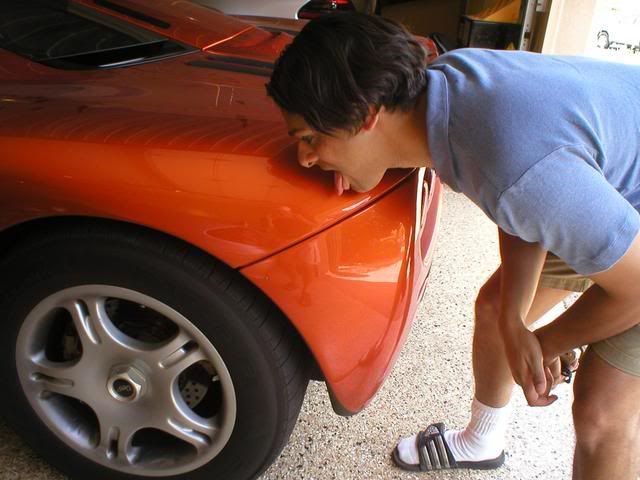 When this photo was later shared with Dan because somone wanted to know what he thought of it, his response was:

"That is physicaly in my garage. You guys are frickin nuts! Who is that?"

So, I guess you could say 'Raj didn't leave as much of an impression on Dan as he'd left on Dan's F1.'

= = = = = =

This is chassis #067 in the garage of Elon Musk, one of the original founders of PayPal who was there when it sold to Ebay for $1BN. He'd already sold a previous company he started for over $300M prior to that, at the age of (...wait for it...) 28. After leaving PayPal he started Space-X, developing private rockets for business satellite launches, with plans to eventually colonize Mars. You'll also know his name from his involvement at Tesla Motors as their CEO. The EXIF image details on these pics say they are from 1999 which if true, would have been when Musk lived in the Palo Alto area. I think they are really from several years later - I mean how many people actually set the date and time on their cameras? He's lives in the LA area now, and finally sold the F1 in 2008 after being a fairly frequent user of it, even regularly commuting to work in it.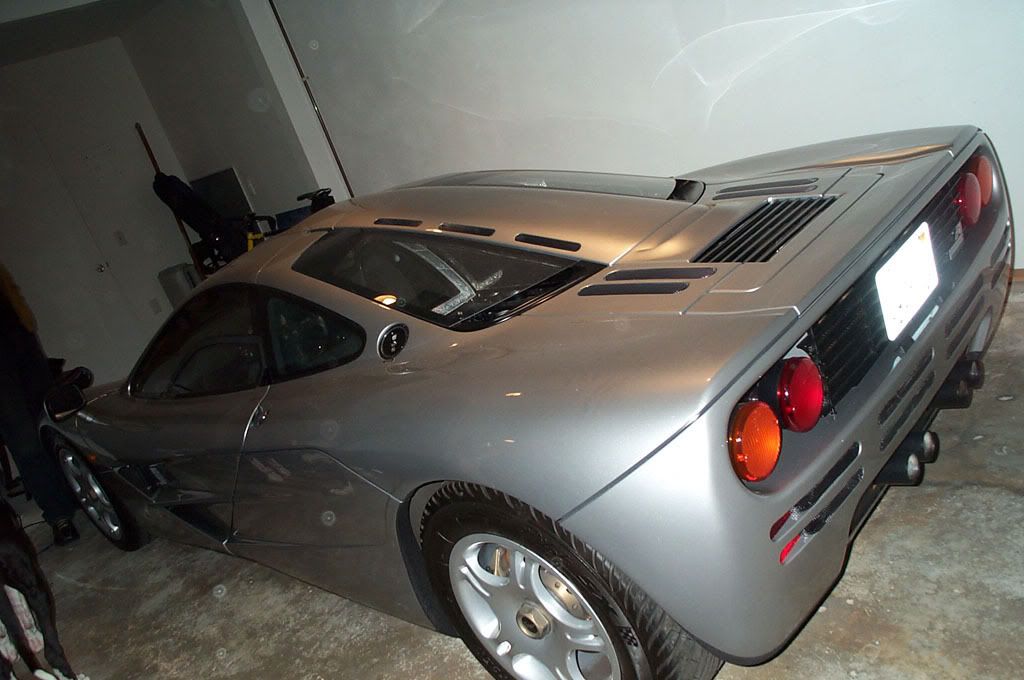 [img]http://img.photobucket.com/albums/v482/Peloton25/McLaren%20F1%20H/McLaren02.jpg[img]
[/img]http://img.photobucket.com/albums/v482/Peloton25/McLaren%20F1%20H/McLaren03.jpg[/img]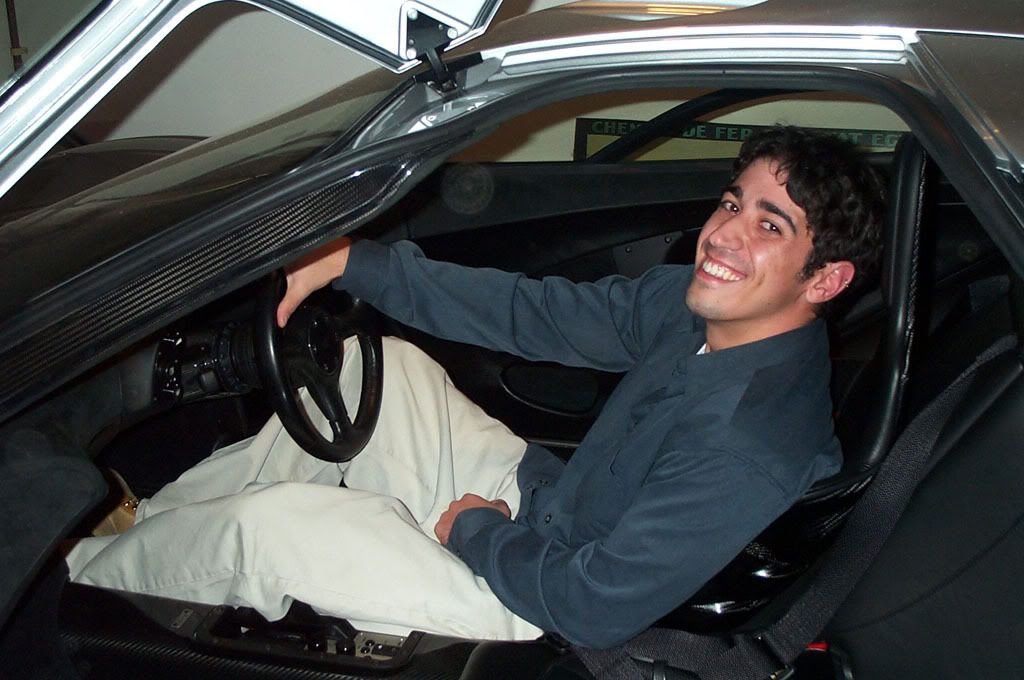 That guy is smiling, but I bet he resisted the temptation to lick the car when no one was looking.

Another little detail too - chassis #067 was the very first F1 road car I ever saw in person on the night of September 7th, 2003. I took this photo as I drove along next to it, which some people claim they really like.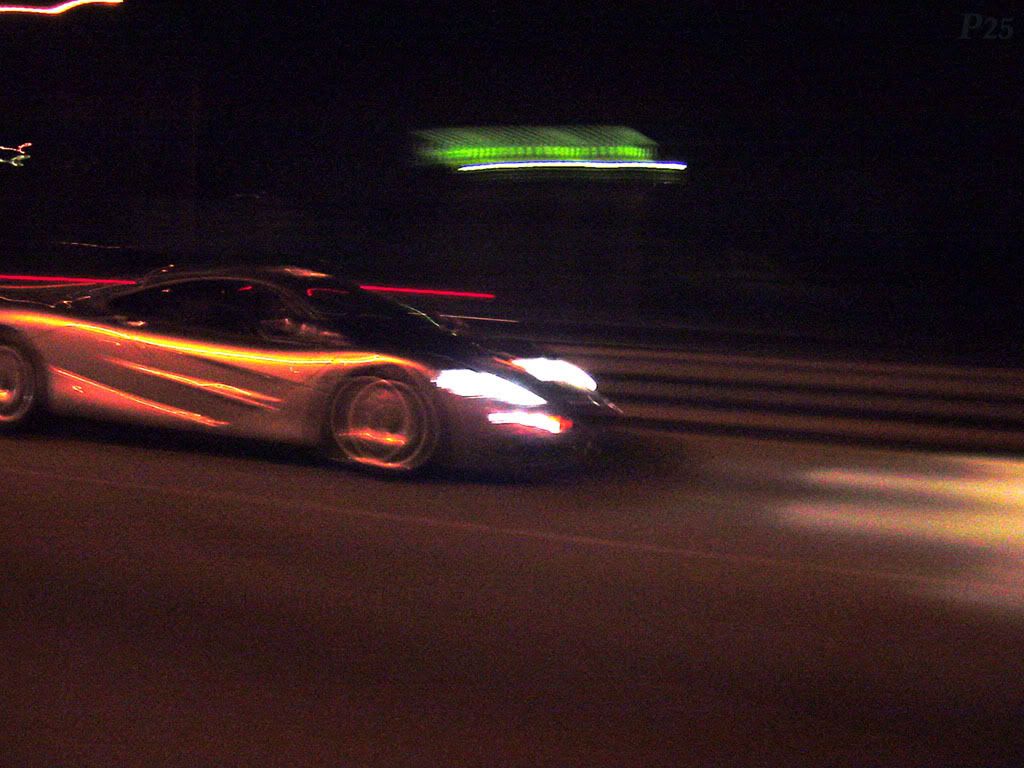 I tell those people "Sure, if grainy, blury, under exposed and awkwardly cropped shots of the F1 are your thing, then it is great!" But perhaps it is because there really aren't many other shots of an F1 driving at night? It is somewhat unique in that sense. The other shots I took of it in the dark were worse.

This car's story takes a sad turn though, as in the hands of this F1s new owner on June 1st, 2009 it caught fire while driving in Santa Rosa, CA and was severely burned at the rear before fire fighters could get there and put it out. The story was everywhere on the web, and I am sure most of you have seen the carnage photos. If not Google will have to be your friend as they are not going to ruin this beautiful thread.



Citation :
I don't know yet if the car is able to be repaired by McLaren, or how that effort is progressing. I really do hope it does get rebuilt, especially for the car's current owner who was pretty upset over the incident as I am sure you can imagine.

Anyway, the focus here is supposed to be on garages and I keep getting off on tangents - apologies.

We'll finish up for now at least with some photos of the excellent garage of everyone's favorite car guy - Jay Leno. I know a few images were posted here earlier in the thread and a link to his website, but they weren't these.

For starters, Jay used to keep his own McLaren F1, chassis #015, in a giant bubble and here's the proof!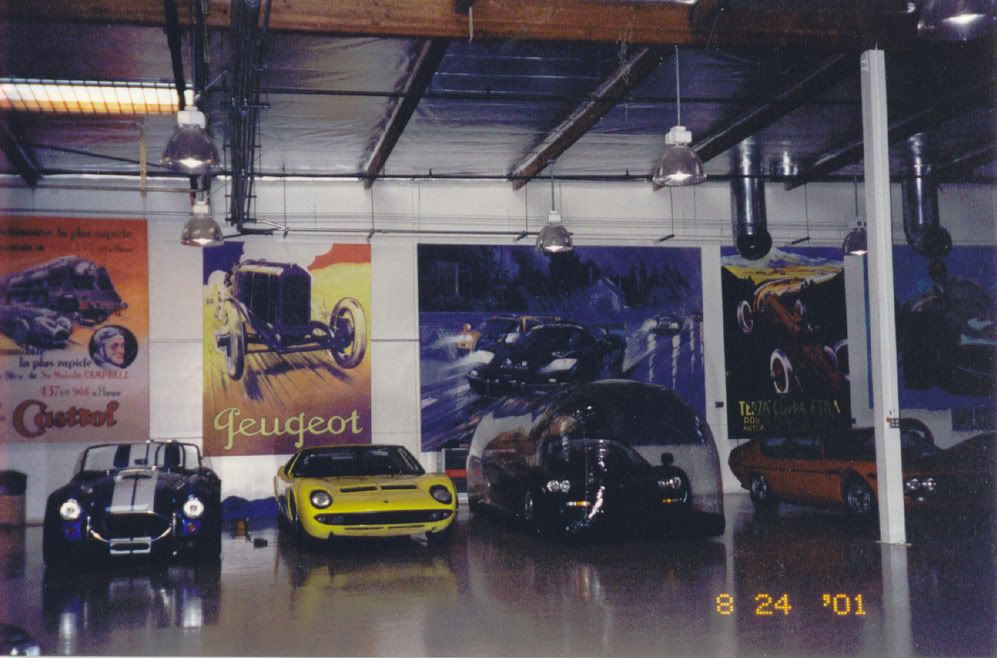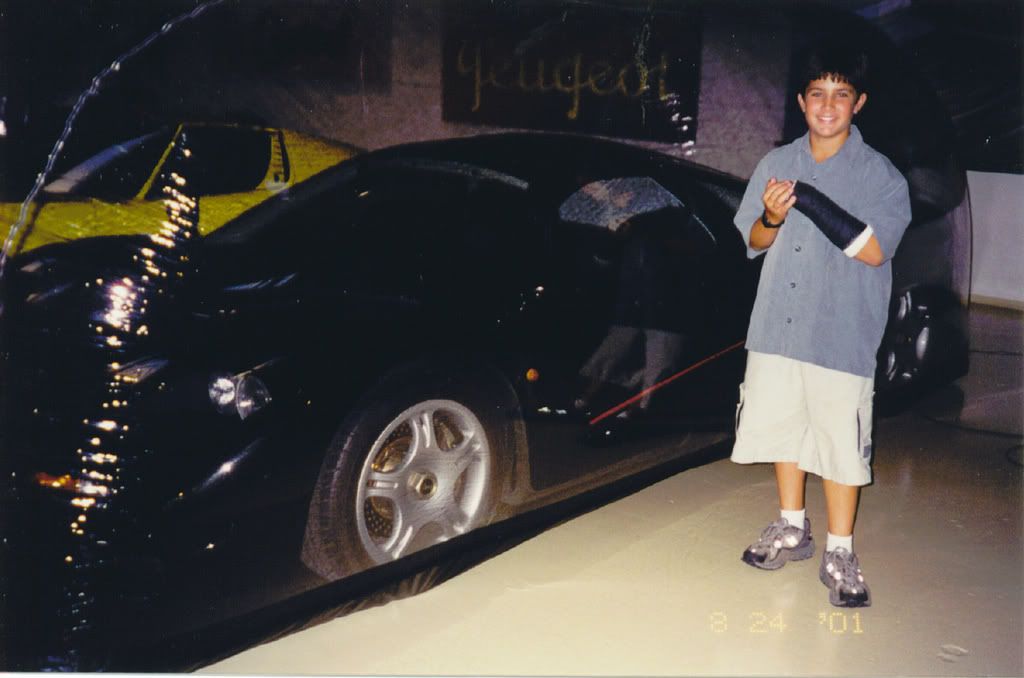 ---------------
|.:::.._On se retrouvera_..:::.|